The time is now to transition from an ad hoc, siloed security stack to a proactive and coordinated security solution implementation strategy. With the increased volume of unique threats and the proliferation of specific environments to protect, security teams have traditionally deployed a mosaic of solutions, spending time integrating data after the fact.
Security teams often spend "too much time integrating separate products and trying to share data, and not enough time quickly responding to business, infrastructure, and attacker changes." Thus, the time has come "for a more coordinated security approach that reduces the number of separate security tools and simplifies the process of protecting a modern IT environment."(Cisco) That is why Cisco has launched SecureX!
Not only is SecureX free with Umbrella, but it is also beneficial for resource restrained IT Teams. The time traditionally spent working on integrations and toggling between product dashboards can now be refocused on actual threat response.
"Traditional solutions operate in a siloed manner, and integrating solutions have historically proved to be very difficult. Lots of custom coding and engineering is required to get the security stack to communicate", says Omar Zarabi, CEO of Port53. "However, as cybersecurity solutions have moved to the cloud, Cisco has been able to provide out-of-the-box solutions for their customers without making them build it on their own. Now with SecureX, customers will have increased visibility across their entire security stack through easy API driven integrations."
Benefits:
Moving forward, SecureX will be included with every Cisco Security product.
Free if you already have Umbrella deployed, and free for new customers once you get Umbrella.
Helpful to resource restrained IT Teams.
Set-up is easy, all API driven. Open API, one-stop-shop to aggregate data, able to look at the whole security stack.
Full Managed SOC Services built around SecureX.
Amplify SecureX with More Integrations
The power of this new API-driven data aggregation and threat visualization platform will be proven when multiple security platforms are integrated. Whether a Cisco solution or not, as long as the security technology is cloud-delivered and has an open API, SecureX will give customers the ability to integrate their entire security stack, from network to endpoint to identity. By easily allowing these technologies to communicate and share data, an organization can create a holistic and integrated security stack that works cohesively in protecting against the ever changing threat-landscape. Simply put, the sum of the whole is much more powerful than the protection of a best of breed point solution.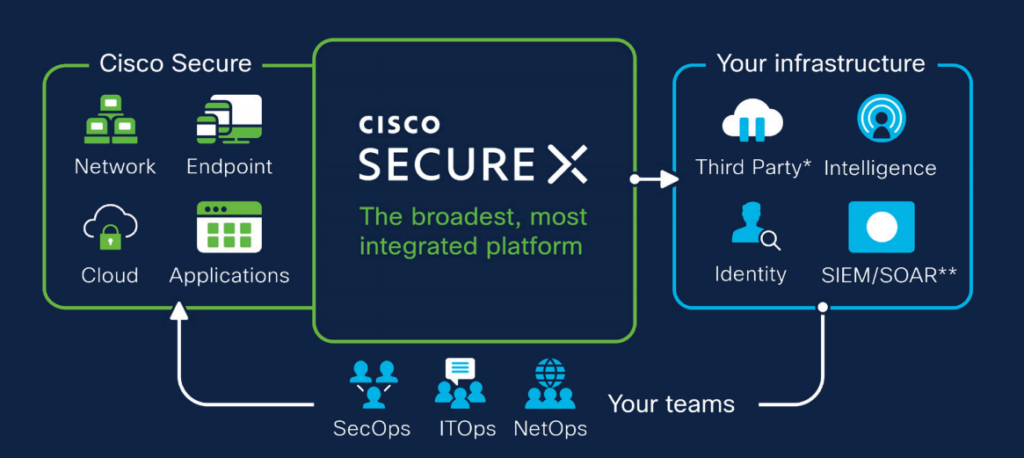 Get Started Today
If you would like to learn more about how you can use SecureX in your environment, or if you would like to schedule time to integrate your Umbrella dashboard into SecureX, schedule a call with one of our Security Account Executives – we are here to help!