Your Cybersecurity Business Partner 
Growing enterprises need to focus on serving customers, not fending off bad actors. Port53 helps to protect you from the ever-changing threat landscape, so you can get on with your business.
Streamline your Security Operations
When you partner with Port53, we become your security nerve-center, delivering solutions, services, and capabilities that secure your digital estate.
Enhance the capabilities of your in-house SOC teams with advanced threat detection, improved visibility, automated response, and centralized management, strengthening overall cybersecurity defenses.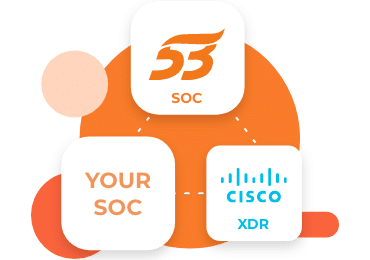 Leverage our managed services to establish your own in-house Security Operations Center. Start with Port53 mXDR and use our expertise, resources, and guidance to enhance cybersecurity readiness.
Port53 Managed XDR offers cost-effective and streamlined cybersecurity solutions, surpassing in-house SOCs in terms of affordability and simplicity.
With  you can….
Accelerate your digital transformation
To stand out from the crowd, you need an agile technology stack secured by a trusted partner. Only then can you adapt at will to rapidly shifting threats.
Protect your remote workforce
Hybrid workplaces and unvetted endpoints mean added complexity. An effective threat posture requires a comprehensive approach to every nook and cranny of your digital estate.
Comply with regulatory obligations
GDPR, HIPAA, PCI DSS – today's businesses must ensure they are up to speed with all the rules of commerce. Port53's guidance and solutions give you the edge you need to comply.
Build a more resilient ecosystem
There's a lot of noise out there – from cyberthreats and regulators to customers and security vendors. Port53 cuts through the noise and delivers the solution that is right for your business.
MODERN CYBERSECURITY, MADE EASY
Start a Free Trial of Cisco Umbrella 
Cisco Umbrella offers flexible, cloud-delivered security. It combines multiple security functions into one solution, so you can extend data protection to devices, remote users, and distributed locations anywhere. Umbrella is the easiest way to effectively protect your users everywhere in minutes.
Work Safely; Innovate in Peace
To help you navigate the fog of threats and regulations, we partner with the industry's biggest names to find the solutions suite that works best for your business goals.
&
Using speed, agility, and cloud technology Cheetah pivoted in the midst of the pandemic to offer their technology as a solution. Port53 was there to help them navigate their threat landscape.
We were able to quickly deploy easy to manage and affordable solutions to keep their information secured during the most turbulent of times.
helps your organization stay protected and secure, but don't take our word. Ask our customers!
Working with Port53 to improve our security posture and efficiency at TigerConnect has been a great experience. From organizing demos to suggesting products that might be of interest, they aided us in many ways to achieve our project goals. The team at Port53 is focused on providing the right-sized solution for TigerConnect that is both cost-effective and scalable.
I enjoyed working with Port53. Omar and his team are very knowledgeable when it comes to enterprise-grade security and we are very satisfied with the outcome and protection Umbrella has provided to our infrastructure.
Port53's dedication to white glove service and treatment is unparalleled. I look for every opportunity to refer them.
Cisco has acquired Splunk's Security Information and Event Management (SIEM) tool for a whopping $28 billion. This acquisition marks a pivotal moment in the cybersecurity industry, as it brings together two giants to enhance threat detection, incident response, and...
Interested in
Learning More?