CMMC – The Compliance Gold Standard
CMMC works on the basis that cybersecurity is holistic and ever-changing. It's about more than just providing the right firewalls or server protection.
 is RPO Certified
Port53 has been chosen by the CMMC Accreditation Body as one of the few Registered Provider Organizations (RPO) certified to assist organizations of all sizes on their journey of becoming CMMC certified.
By leveraging the TrustMAPP platform to streamline gap identification and prioritization, and following through with enterprise-grade solutions to fill those gaps in controls and processes, Port53 has cut through the noise and drastically simplified the CMMC journey.
Measuring Maturity Graded on Scale
Sophisticated cyber crime means there's always going to be a necessity for more and more advanced cybersecurity. For compliance, that means assessing it from an organic, human viewpoint that sees the whole picture, rather than reducing compliance to a box ticking exercise that anyone can pass as long as they've performed the "right" actions at the right time. 
The industry is shifting from a flat compliance model, to measuring cybersecurity maturity. Graded on a scale, the new method will evaluate not only the rigor of an enterprise's security posture but its level of integration against achieving those aims. It presents a holistic picture of how developed the company's security strategy is, revealing much more than a pass/fail audit.
While for now, CMMC might be aimed solely at DoD contractors, it's certainly a sign of things to come for all cybersecurity systems. "Is this worth it? Can I afford it?" Are just a few of the questions organizations are asking today.
Learn more about the CMMC Journey toward certification for SMBs and SMEs
CMMC Model 2.0 – what you need to know. In this article we examine the new model 2.0 version of CMMC from three perspectives.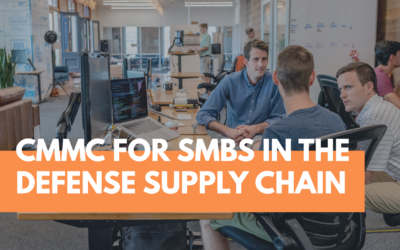 This is the second in a multi-part blog series on CMMC. You can find part one (the why, how, and...
The first in a multi-part blog series on CMMC. You can find part two, how the unique aspects of...
The
Solution
Speak to a CMMC Expert Today!
At Port53, you'll find everything you need to achieve and attest to your desired level of compliance. We will help you build your roadmap, double-check your work, keep abreast of the latest developments, and have a team of experts in your back pocket.